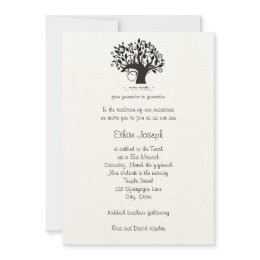 Tree of Life Generations
A magnificent, modern Tree of Life with the enduring Hebrew phrase, L'Dor V'Dor (From Generation to Generation) beneath. Matching postage and cards. This card can be customized with any color tree and any color paper.
Noah
A sophisticated flat card, in hues of cream and dark blazer blue, that incorporates the famous Talmudic passage: "Whoever saves a single life is as if one saves the entire world." A terrific, appropriate invitation to use when you have a mitzvah project that echoes this sentiment.
Daisy Grove
. This sweet invitation in cheery hues of yellow features flowers with a twist: the stems are actually words in Hebrew, which translate (roughly) to "And the girl grew and was blessed."
Caleb
"L'dor v'dor" – Hebrew for "From generation to generation" – is embossed on this sophisticated Bar Mitzvah invitation recalling family tradition.
And the Child Grew
Dramatic, lively and beautiful, a prayer in Hebrew and English creates a bold circular frame around your main wording, printed in the same color ink.
Reverence
A handsome olive and brown card featuring a detailed tree woodcut underneath the familiar prayer, printed in Hebrew and English: "It is a tree of life to all who grasp it."