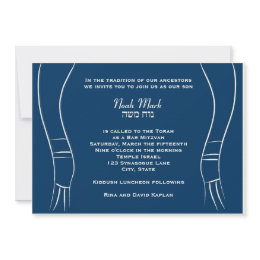 Noah Mark
Brand-new style! Printed on fine linen paper, this traditional yet modern invitation features an artist's tallit design with your text in the center. Matching postage and cards.
Colorful Talis
Invite friends and family to celebrate as you are called to the Torah with this white invitation card featuring a colorful Tallis in blue and purple with accents of gold.
Clad in Splendor An exuberant watercolor tallis dances along the borders of this square flat card.



Draped Tallit

A flat card featuring a watercolor tallit and your child's initials and event date.







Tallit of Devotion

A joyous illustration of a twirling tallit with flying fringes graces this festive flat card invitation.


Draped Tallit

The two ends of a tallit, rendered in watercolor hues of purple, make this an attractive flat card bar mitzvah invitation.


Benevolence

A sweet and pretty invitation for a bat mitzvah combining a Star of David with a floral tallis.


Flowing Tallit This sage-bordered cream card features an elegantly draped tallis accented with gold foil. Also available, as shown on the right, as a print-at-home invitation.